Uncle | 엉클 | K-Drama | Joon Hyeok was a musician whose life has hit rock bottom after he had been scammed
Uncle | 엉클 | K-POP |
He had ended his relationship with his older sister Joon Hee because of it. One day, suddenly, he receives a call from Joon Hee asking him to take care of her son, Min Joon. After 12 years of strife, Joon Hee divorced her physically abusive husband, at the same time ridding herself of her equally nasty mother-in-law.
Uncle | 엉클 | K-POP Drama |
Joon Hee moves into an inexpensive apartment, keeping a low profile lest her former family finds her. The Royal State is a luxury apartment complex that has some noteworthy residents. Hye Ryeong is the much-respected president of the Mothers' Committee. Committee member Yoo Ra very much admires her. Single father Kyeong Il is a warm and pleasant man who continues to raise his daughter since the passing of his wife.
Uncle | 엉클 | K-Drama |
Native Title: 엉클
Also Known As: Eongkeul
Screenwriter: Park Ji Sook
Director: Ji Young Soo
Genres: Music, Comedy, Drama, Family
Tags:Uncle-Nephew Relationship, Mental Illness, Remake, Family Relationship, Musician, Older Man/Younger Woman, Betrayal, Multiple Mains, Obsessive-compulsive Disorder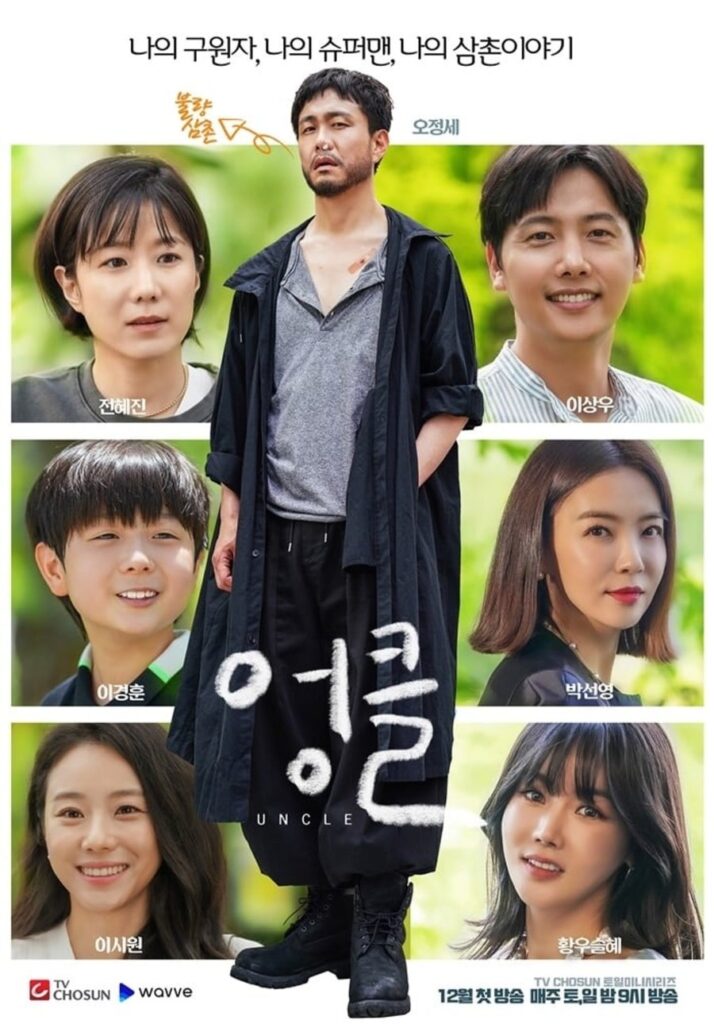 Uncle | 엉클 | K-Drama |
Drama: Uncle
Country: South Korea
Episodes: 16
Aired: Dec 11, 2021 – Jan 30, 2022
Aired On: Saturday, Sunday
Original Network: TV Chosun, Viki
Duration: 1 hr. 10 min.
Content Rating: 15+ – Teens 15 or older
Uncle | 엉클 | K-Drama |
Score: 8.1 (scored by 904 users)
Ranked: #1196
Popularity: #2886
Watchers: 2,983