Download Dream-High EP4 | K-Drama | South Korea, Watch Dream-High EP4 | K-Drama | South Korea, don't forget to click on the like and share button. Series Dream High always updated at Thai Drama TV. Don't forget to watch other series updates.
Dream High : tells the story of six students at Kirin Art High School who work to achieve their dreams of becoming music stars in the Korean music industry.
Dream High | K-Drama | South Korea
Go Hye Mi is a student who had majored in classical music but has to give up her dream by entering Kirin Art High School to pay off her father's debt. However, she needs to get two other students to also come to the school in order for her to enroll in the school conditionally.
These two students are Song Sam Dong, who lives in the countryside, and Jin Guk, whom she accidentally meets while trying to escape from a loan shark. Yoon Baek Hee, formerly Hyemi's sidekick, becomes her rival in school because Hye Mi betrays her during an audition to enter the school.
Native Title: 드림하이
Also Known As: Deurim Hai , Sueña sin límites
Screenwriter: Park Hye Ryun
Director: Lee Eung Bok, Kim Seong Yoon
Genres: Music, Comedy, Romance, Drama
Tags: High School, School Bullying, Love Triangle, Character Development, Youth, Friends To Lovers, Multiple Mains, Cohabitation, Strong Female Lead, Weight Loss (Vote or add tags)
Dream-High | K-Drama
Drama: Dream High
Country: South Korea
Episodes: 16
Aired: Jan 3, 2011 – Feb 28, 2011
Aired On: Monday, Tuesday
Original Network: KBS2
Duration: 1 hr. 10 min.
Content Rating: 15+ – Teens 15 or older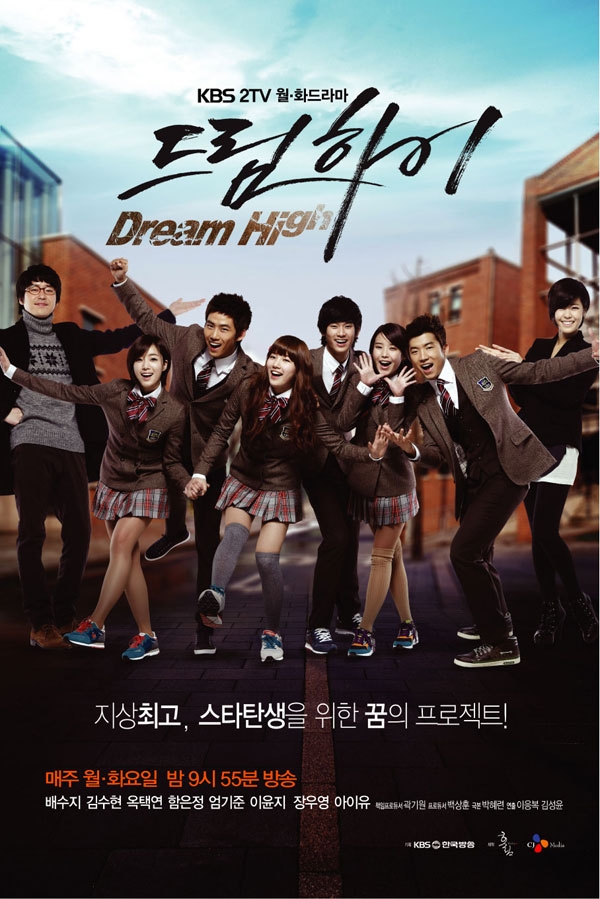 Dream High | K-Drama | South Korea
Score: 8.0 (scored by 39,171 users)
Ranked: #1631
Popularity: #65
Watchers: 72,133